Early postwar blues
After World War II and in the 1950s, increased urbanization and the use of amplification led to new styles of electric blues music, popular in cities such as Chicago, Detroit and Kansas City.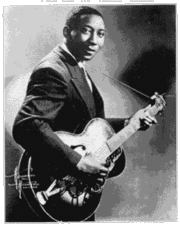 Muddy Waters at a young age.
Chicago became a blues center in the early fifties. The Chicago blues is influenced to a large extent by the Mississippi blues style, because most artists of this period were migrants from the Mississippi region: Howlin' Wolf, Muddy Waters, Willie Dixon, and Jimmy Reed were all born in Mississippi. Their style is characterized by the use of electric guitar, sometimes slide guitar, harmonica, traditional bass and drums. Nevertheless, some musicians of the same artistic movement, such as Elmore James or J. B. Lenoir, also used saxophones but more as a rhythm support than as solo instruments. Though Little Walter and Sonny Boy Williamson (Rice Miller) are the best known harp musicians of the early Chicago blues scene, others such as Big Walter Horton and Sonny Boy Williamson, who had already begun their careers before the war, also had tremendous influence. Muddy Waters and Elmore James were known for their innovative use of slide electric guitar. However, B. B. King and Freddy King did not use slide guitars and were perhaps the most influential guitarists of the Chicago blues style. Howling Wolf and Muddy Waters were famous for their deep voices. Howling Wolf is particularly acknowledged for distorting his voice with a special use of the microphone. Willie Dixon played a major role on the Chicago scene. He was a bassist, but his fame came from his composing and writing of most standard blues numbers of the period. He wrote "Hoochie Coochie Man" and "I Just Want to Make Love to You" for Muddy Waters, "Wang Dang Doodle" for Koko Taylor, and "Back Door Man" for Howlin' Wolf, and many others. Most artists of this style recorded for the Chicago-based Chess Records label.
The influence of blues on mainstream American popular music was huge in the fifties. In the mid-1950s, musicians like Bo Diddley and Chuck Berry emerged. Directly influenced by the Chicago blues, their enthusiastic playing departed from the melancholy aspects of blues and is often acknowleged as the transition from the blues to rock 'n' roll. Elvis Presley and Bill Haley, mostly influenced by the jump blues and boogie-woogie, popularized rock and roll within the white segment of the population. The influence of the Chicago blues was also very important in Louisiana's zydeco music. Clifton Chenier and others introduced many blues accents in this style, such as the use of electric solo guitars and cajun arrangements of blues standards. However, other artists popular at this time, such as T-Bone Walker and John Lee Hooker, showed up different influences which are not directly related to the Chicago style. Dallas-born T-Bone Walker is often associated with the California blues style. This blues style is smoother than Chicago blues and is a transition between the Chicago blues, the jump blues and swing with some jazz-guitar influence. On the other hand, John Lee Hooker's blues is very personal. It is based on Hooker's deep rough voice accompanied by a single electric guitar. Though not directly influenced by boogie woogie, his very groovy style is sometimes called "guitar boogie". His first hit "Boogie Chillen" reached #1 on the R&B charts in 1949.